History
St.Aloysius Sr.Sec.School,is one of the premier institutions in the state owned and established by the Catholic Diocese of Jabalpur, and it is administered by the Diocese through the Jabalpur Diocesan Educational Society,a registered body under the Society of Registraion Act M.P. in 1968.
St. Aloysius School had its humble beginning in the year 1869, when Fr.Montangnoux Delalex MSFS from Nagpur came and started the school with six orphan children in the year 1873. The primary school was recognized by the gorverment and the middle school got recognition in the year 1884. As the number of students increased the need for a new building was felt, so a new building was blessed and inaugurated by Bishop Coppel on 13th October 1915. Several MSFS, Diocesan and Norbertine Fathers and teachers served the school with rare distinction leaving behind their indelible mark in the sands of time. Their devotion,dedication,commitment and selfless service are a standing witness behind the name and fame of this Institution.
The Old Boys Association was formed in the year 1932 with Mr.E.P.O'Sullivan, a distingished and venerable teacher,as its founder member. St. Aloysius School accommodated St.Thomas Middle and High School from 1948 till the latter shifted to the new campus in the year 1956. St.Aloysius school was following the Cambridge syllabus for quite sometime and it switched over to the M.P. Board and became a Higher Secondary School in the year 1965.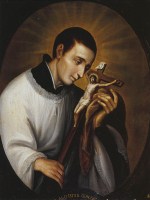 The school got affiliated to the Central Board of Secondary Education in the year 1994, during the tenure of Fr.Charles Menezes as Principal. Fr.George P.A. took over as Principal with Fr.Thankachan Jose as Vice Principal on 12th Nov. 1997. In 1998, the school switched over to a co-ed school, and in the same year an additional section was added to the school due to the increasing demand for more admissions (In 1999 Fr.Mathew Joseph joined the Aloysian family as Vice Principal.) Fr.Thankachan Jose was the Principal from 19th June 2008 to april 2016. Fr.Sibi Joseph took over as the Principal from May'2016.This year, an additional section is added from class I to IX because of the pressure for admission in the school.